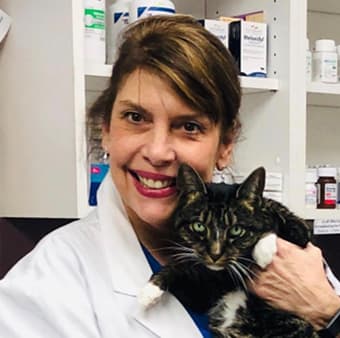 Dr. Lagana, DVM
Dr. Lagana grew up in Westchester County in a family who loved animals. She spent her childhood driven by a desire to help animals in need; horses were and continue to be her passion. It was no surprise to her family and friends when she pursued her dream to become a veterinarian. She attended Cornell University for her undergraduate and DVM degree where she was a leader in organizations of animal welfare. Along with her studies, she worked in the field of epidemiology.
After graduation, Dr. Lagana worked at South Salem Animal Hospital and was one of the first veterinarians at Noah's Ark Animal Hospital, South Salem's sister hospital, when it opened.  She eventually purchased her own animal hospital in Westchester County where she had a successful business for many years.
After selling her practice, Dr. Lagana returned to the area to practice again and is happy to be working at South Salem Animal Hospital.
As a veterinarian, she believes in treating all animals as if they are her own and that caring for their medical needs is a partnership between the DVM and the owner. She excels in a compassionate, personalized approach to Veterinary Medicine.
Dr. Lagana lives with her husband Dr. Schleiter, who practices at Danbury Hospital, and her many rescue animals in Newtown CT.  She enjoys being at her lake home during the summer months in Brewster, NY.