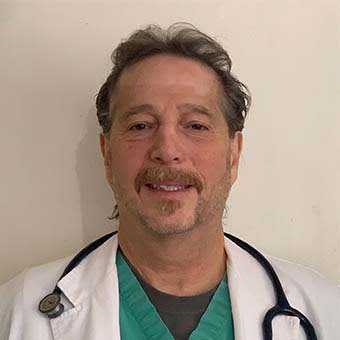 Dr. Hubsher, DVM
Dr. Jeffrey Hubsher always wanted to be a veterinarian. Up until he was six years old, however, he wanted to be a cowboy (difficult for a kid growing up in Brooklyn)! But after that, he knew his calling was to be a veterinarian: "It was kind of like a dream come true."
Dr. Hubsher has been in practice since 1980. He is an active member of the AVMA, CVMA, FCVMA, and NYVMA. He has worked as a veterinarian in Ft. Lauderdale, Florida, Peekskill NY, and Franklin Square, NY, and in an emergency clinic on Long Island.
He has been co-opened the South Salem Animal Hospital in 1984, and Noah's Ark Animal Hospital in 2000. Dr. Hubsher is a consultant for R.O.A.R., Ridgefield Operation for Animal Rescue.
Dr. Hubsher loves being a veterinarian. He is a general practitioner and his goal is to provide extraordinary veterinary care in all aspects of his practice. In addition, he has advanced training in veterinary dental care and has a special interest in ear diseases. He is a progressive clinician who attends many continuing education seminars and who insists on having the most advanced and specialized equipment in his two hospitals. Dr. Hubsher not only provides care to cats and dogs but also treats birds, reptiles, rabbits, guinea pigs, hamsters, rats, pot-bellied pigs, pet goats, and pet sheep—you name it.
To quote Dr. Hubsher on his philosophy of practice: "It's very important and fulfilling for me to help pets and their people. I believe that there should be a partnership between the veterinarian, the pet, and the pet's family too. This partnership is helpful in deciding how to deliver the best, most compassionate care possible to our patients."
Dr. Hubsher and his wife Lauren live on a farm in Ridgefield, CT. They have two daughters named Sierra and Willow. They share their home with three dogs, a cat, a parrot, parakeets and finches, a goldfish named Fruity, horses, a donkey, two pigs, two sheep, three goats, some chickens, rabbits, and two peacocks. When he's not working, Dr. Hubsher enjoys traveling, horseback riding, surfing, and skiing.